Hey Gang,

I wanted to give the heads up on my brother's new short film DEAD INSIDE, which can now be seen on both the SCI FI CHANNEL and the SUNDANCE CHANNEL's websites!

DEAD INSIDE is an intense and emotional short film about an isolated man who struggles with his loneliness and uses technology to overcome his depression. The film is just over 6 minutes long with credits. My Brother Ian did an incredible job with- and he's already won an international screenplay award for this! It's definitely worth checking out!

I don't know if this would be an added incentive to check it out but yours truly also has a 'blink-and-you'll-miss-me' cameo to look out for. Well, don't look TOO closely or you'll see that I'm wearing my "Lucasfilm Ltd." jacket! ;)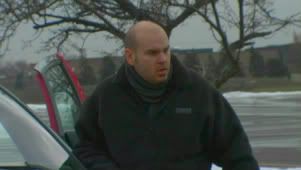 So- Here's the deal. Ian could really use your support. DEAD INSIDE made it into the SCI FI CHANNEL's Exposure Contest. 100 films are selected and every week 10 films are showcased online. Each week those 10 films on display get narrowed down to one winner per week by votes. This week Ian's film DEAD INSIDE is one of the 10 films being showcased!

See DEAD INSIDE HERE at the SCI FI CHANNEL's website.

You can also see it HERE at the SUNDANCE CHANNEL's website.

Simply select the film DEAD INSIDE and submit your vote. You can vote as much as once per day per computer on the SUNDANCE CHANNEL site, and once per person on the SCI FI site. (It will ask for you name, email, etc to keep votes from being duplicate.)

If DEAD INSIDE gets the most votes this week, it will make it into the top ten. The top ten films are eligible for really incredible prizes that would really help my brother out!

Please go watch DEAD INSIDE and vote for Ian's film!

And when you finish and want to learn more about my brother, check out his website HERE at IanBusch.com.